TYPE — UX/UI DESIGN, PROTOTYPING 
Leeway was conceived and designed at the height of the initial wave of the COVID-19 pandemic. During this period, when spirits were low and screen time was at its peak, I recognized the perfect opportunity to embark on this project.
Distinguishing itself from typical screen time tracking apps, Leeway was purposefully crafted to empathize with users, enrich their digital experiences, and guide them towards cultivating a healthier relationship with their phones—an essential requirement in the era of technology. In many ways, it embodies the principles and ideals expounded in Cal Newport's influential book, 'Digital Minimalism' offering an app-based counterpart to his philosophies.
For this project, I utilized insights derived from both my own user research efforts and data collected by researchers from Frontiers in Human Dynamics. Key data points extracted include:
• On average, digital device usage increased by 5 hours during the initial stages of the pandemic and has remained elevated since.
• Users aged 18-25 exhibited an average screen-time of 8 hours during the pandemic.
• Social media and entertainment apps were identified as the most frequently used and potentially "abused" categories.
• Excessive device usage during the pandemic has been linked to heightened issues such as insomnia, anxiety, depression, and emotional exhaustion.
To validate these findings, I conducted a brief survey involving 15 participants, which served to corroborate many of the aforementioned points.
Recognizing the potential bias stemming from my own overreliance on screens during the lockdown, I made a deliberate effort to complement the quantitative data with one-on-one interviews. These interviews provided invaluable insights into how excessive device usage impacted individuals in various ways, allowing me to develop a deeper empathy for potential users of the Leeway app. Integrating this genuine empathy at such a profound level would not have been possible without these interviews.
Leeway placed a primary emphasis on fostering healthy habits and personal growth, surpassing the mere visualization of data. The design was crafted to establish a deep personal connection and provide users with the motivation to enhance their digital behaviors. To achieve this, the app incorporated gamification elements, including screen time limits, individual goals, and group challenges. Furthermore, Leeway included features like emotional check-ins, uplifting statistical summaries, and educational content sourced from books and articles on digital minimalism and productivity. This holistic approach transformed Leeway from a basic screen time tracking app into a comprehensive solution that addressed the issue from multiple angles.​​​​​​​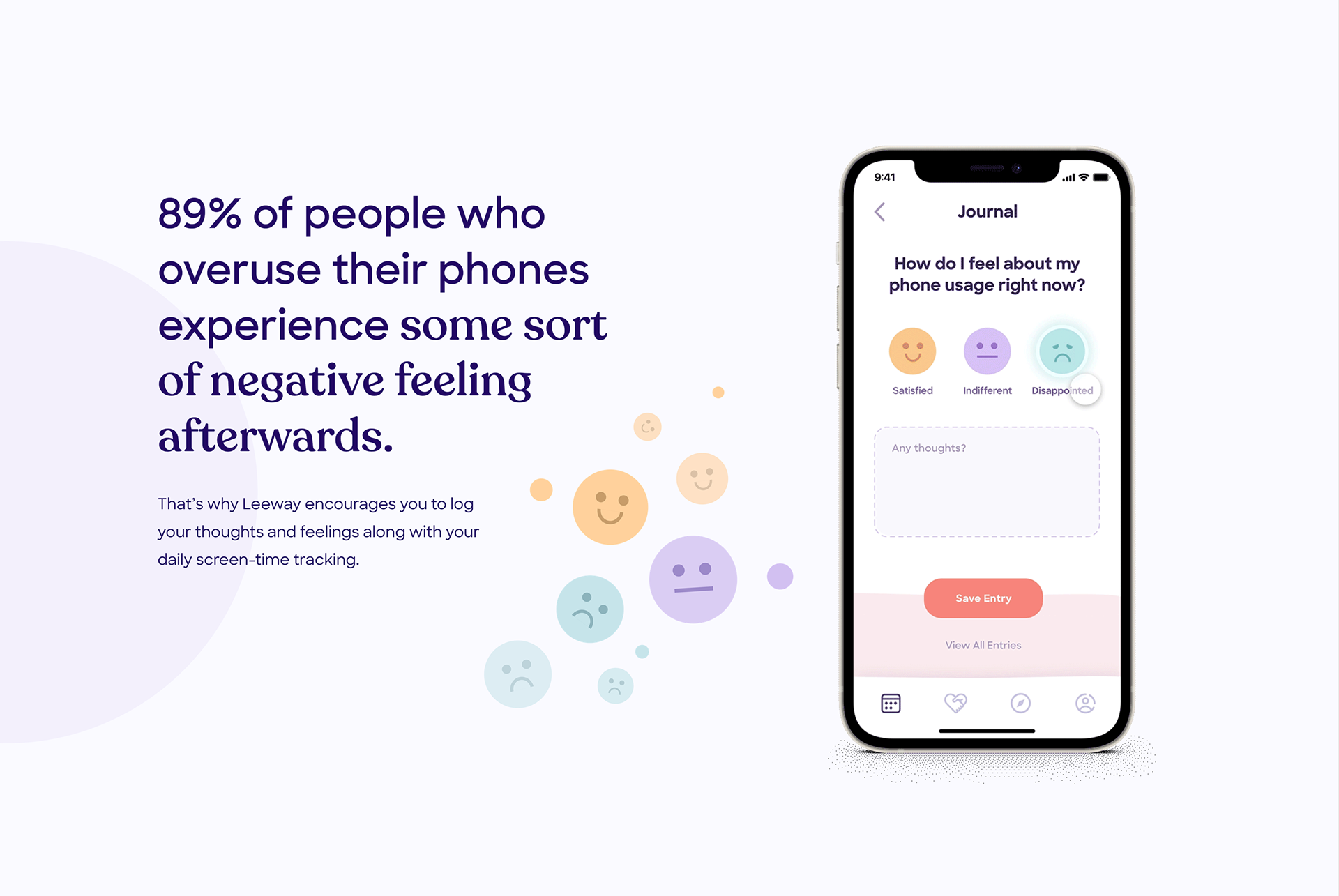 The app's visual elements were intentionally crafted with the concept of "gentleness" in mind. Considering that users may be fatigued, experiencing physical symptoms like headaches, or simply feeling overwhelmed due to excessive phone usage, it was essential for the app to provide a soothing and comforting experience. Harsh edges and vibrant colors would only exacerbate their negative state. In line with psychological findings, purple, often regarded as a spiritual and calming color in lighter shades, was chosen to evoke a sense of tranquility and minimize associations with materialism. Additionally, touches of orange were incorporated to add a friendly and optimistic touch to the overall aesthetic.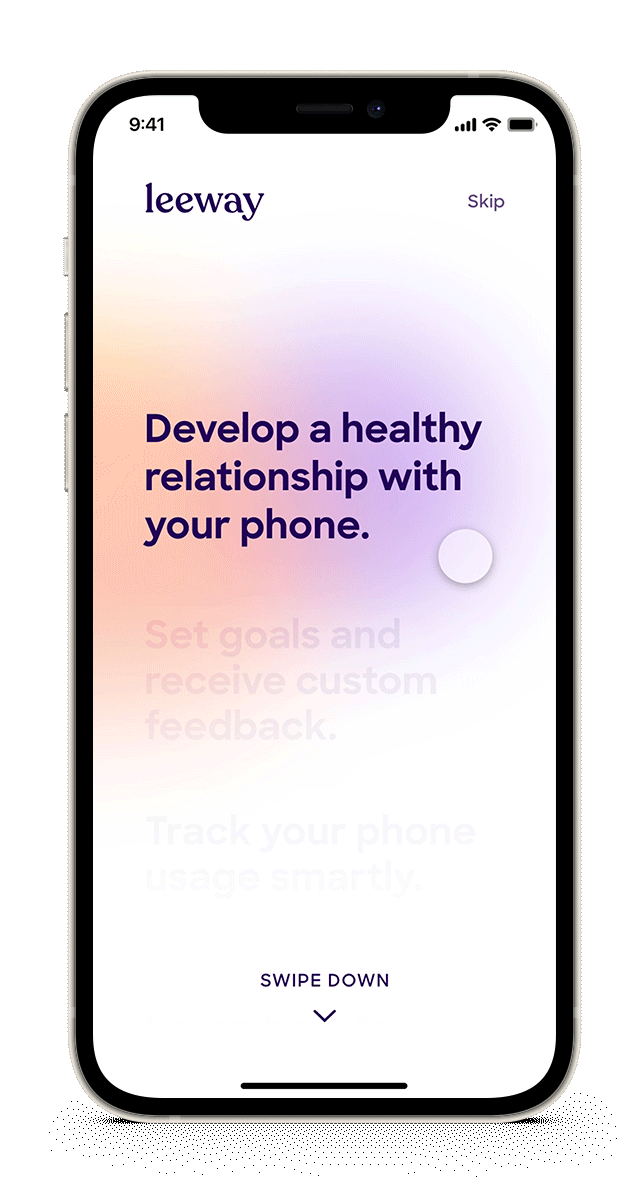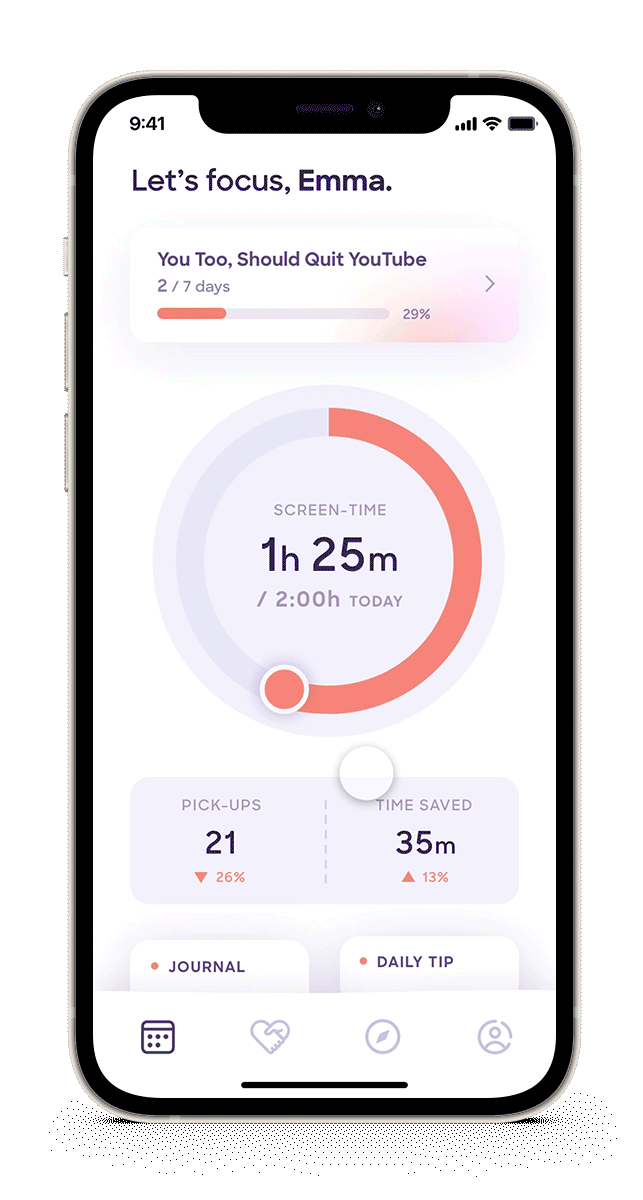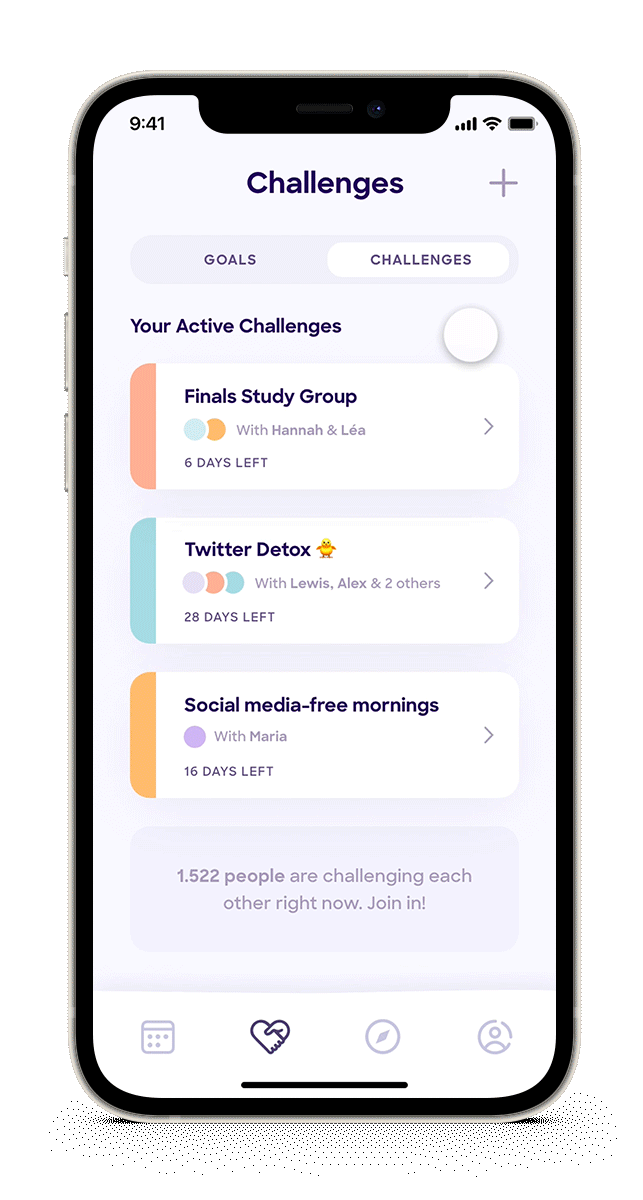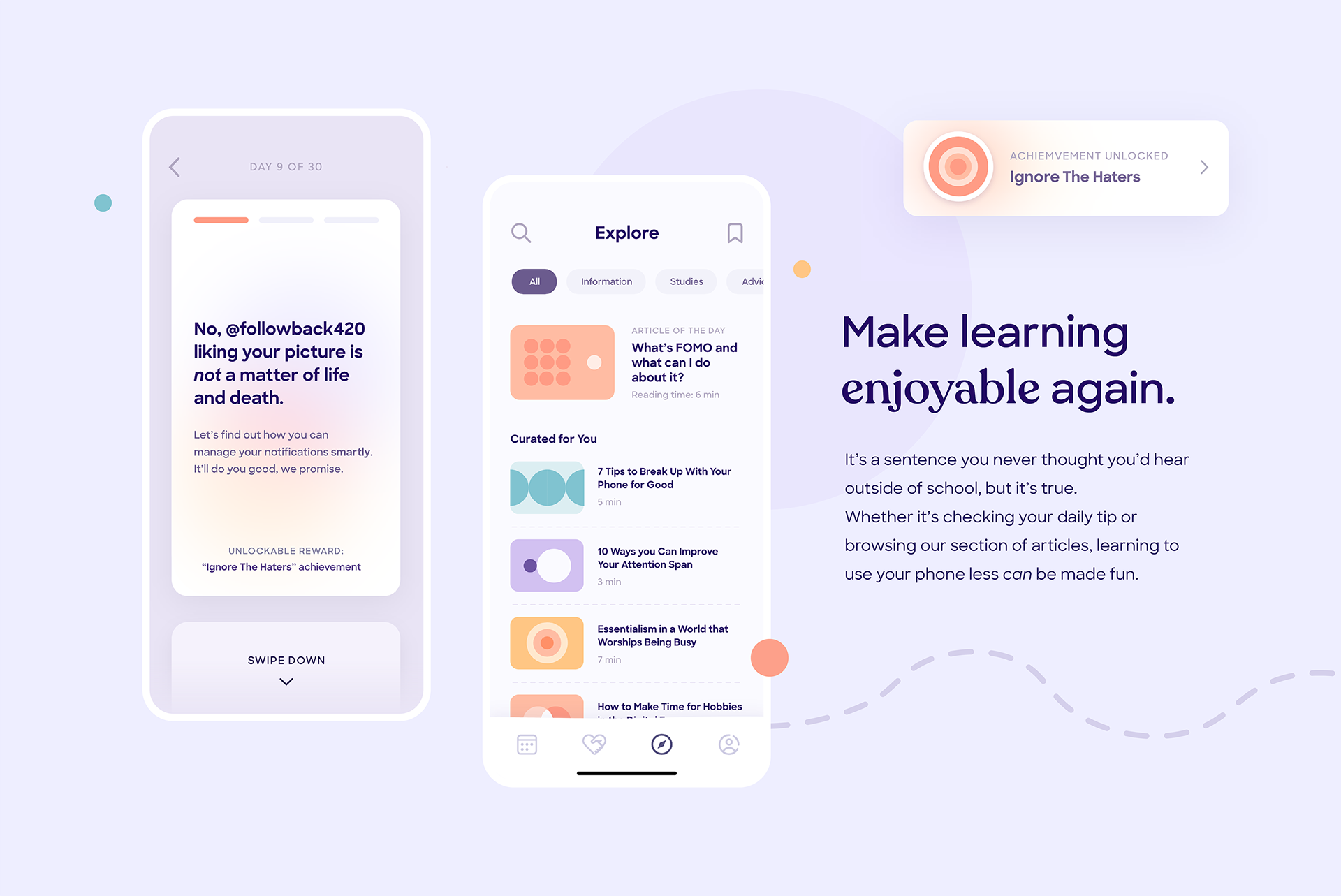 Testing for Leeway was conducted immediately after prototyping the app, utilizing the following tools:
• Maze was employed to create scenarios where users could complete a series of tasks and provide feedback.
• Google Forms served as a platform for additional questions.
• Excel was used for classifying and processing user feedback.
Due to the pandemic, all testing had to be conducted remotely. Initially, finding enough users posed a challenge, but I successfully gathered responses from 7 participants, with 6 of them completing the Maze scenarios in their entirety. The testing and subsequent surveys yielded the following insights:
• The mood tracker and monthly wrap-ups received highly positive feedback from all 7 users. Additionally, they expressed their willingness to incorporate goals and challenges into their daily routine.
• Some users encountered difficulties determining if they had registered their mood or checked the daily tip. To address this, I proposed adding an orange dot to indicate novelty, which would disappear once the action was completed. When asked, 5 out of 7 users found this enhancement to be helpful in their understanding.
• A few users initially struggled to grasp the purpose of the handshake icon in the menu bar. However, they clarified that it did not hinder their app usage as the purpose became apparent once they accessed the corresponding page.
The development of Leeway took on significant relevance as the pandemic intensified in mid-2020. The tangible impact of excessive digital device usage on both physical and mental well-being is undeniable. While the app remained a concept, I genuinely wished to transform it into a tangible product to share with friends and family.
This project marked my inaugural experience in creating a comprehensive app design, encompassing prototyping, testing, and iterating. The process provided invaluable lessons on prototyping larger-scale apps and conducting user testing, which I had yet to explore previously.