TYPE — UX/UI DESIGN, PROTOTYPING 
Leeway was designed during the peak of the first wave of the COVID-19 pandemic. Spirits were low and screen time was high, but I couldn't have chosen a better time to embark on this project.
Unlike other screen time tracking apps, Leeway was specifically designed to empathize with the user, add value to their digital lives and teach them how to have a healthier relationship with their phones, a basic necessity in the era of technology. Essentially, if 'Digital Minimalism' by Cal Newport were an app.
For this project, I relied on inisght derived not only from user research conducted by myself but also on data from researchers from Frontiers In Human Dynamics. Some of the key data I extracted was:
• Overall digital device usage went up by an average of5h during the beginning of the pandemic and hasn't come down since
• The average screen-time among users aged 18-25 during the pandemic is 8h
• The most 'abused' apps fall into the Social Media and Entertainment category
• Excessive device usage during the pandemic has heightened insomnia, anxiety, depression, and emotional exhaustion, among other things.
A short survey I conducted among 15 people simply corroborated many of these key points.
I also struggled with an overreliance on screens during most of lockdown so far, but I recognized a potential personal bias derived from my own experience, so I made sure to complement the hard data I extracted with one on one interviews. Hearing how excessive device usage affected people differently provided the insight I needed to deepen my empathy for this app's prospective user. Without these interviews, I don't think I would've been able to integrate genuine empathy into Leeway at such a deep level.
Leeway prioritizes healthy habits and improvement over data visualization. When it comes to beating a bad habit, data means nothing if there's no personal connection to it, or a strong motivation to improve. Despite being a screen time tracking app at its core, I designed Leeway with the potential to become a companion for the user during and beyond the pandemic while gently teaching and encouraging the user so that, with time, they would come to rely on it less and less.
In order for this to happen, Leeway combines gamification (screen time limits, individual goals, and group challenges), empathy (emotional check-ins, encouraging statistic summaries), and education (providing short tips derived from books and articles on digital minimalism, productivity, and more). This turns the basic premise of a screen time tracking app into a holistic product aiming to solve a problem from different perspectives.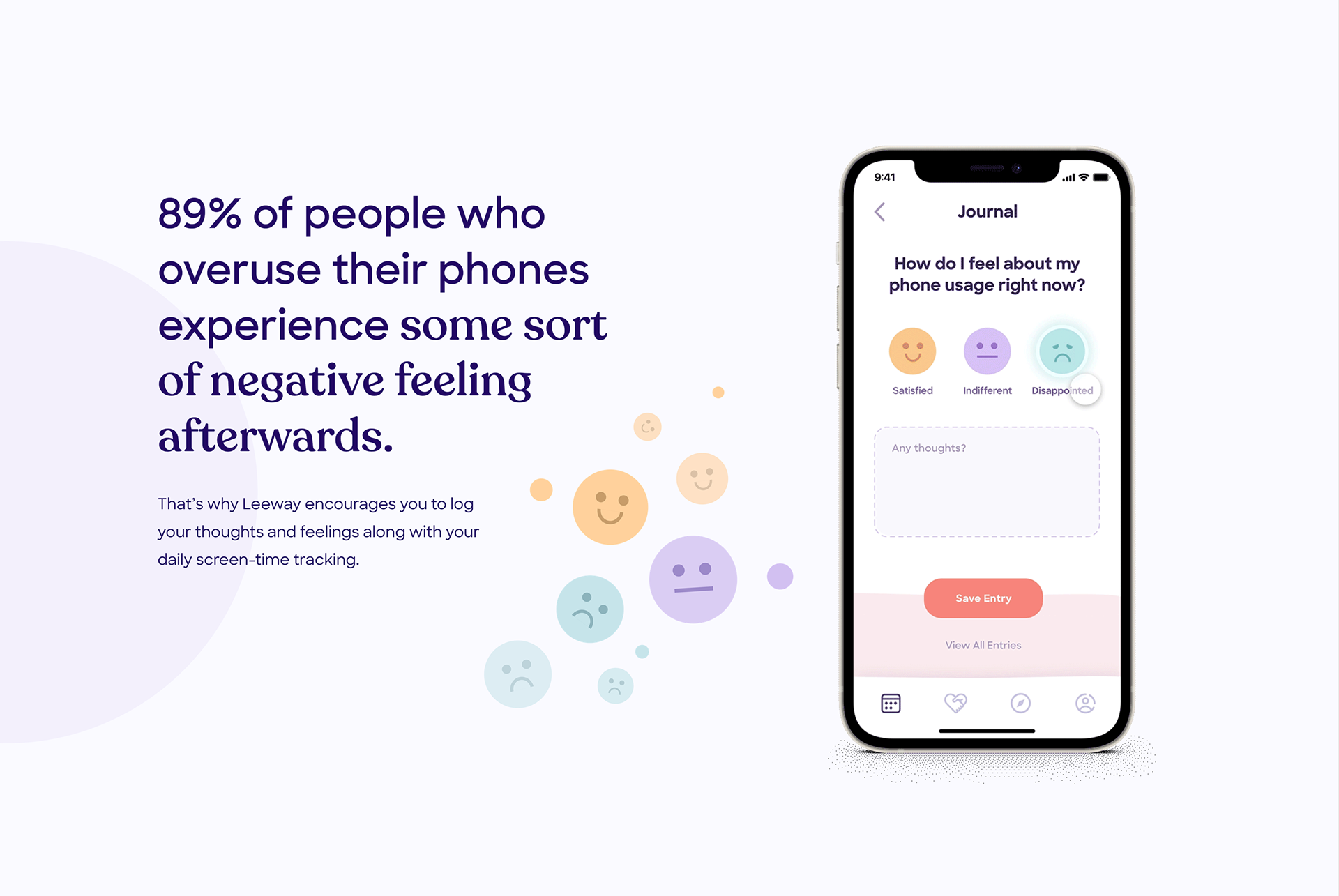 The visuals for an app were specifically designed with the word 'gentle' in mind. When a user has overused their phone, is tired, and is perhaps even dealing with physical symptoms, such as a headache, the last thing they want from the app supposed to get them out of a negative headspace is to be greeted by  harsh edges and strident colors. A psychological source states that purple is the color least associated with materialism (it is often seen as a spiritual color, as well as a calming one in its lighter shades), whereas the touches of orange offer friendliness and optimism.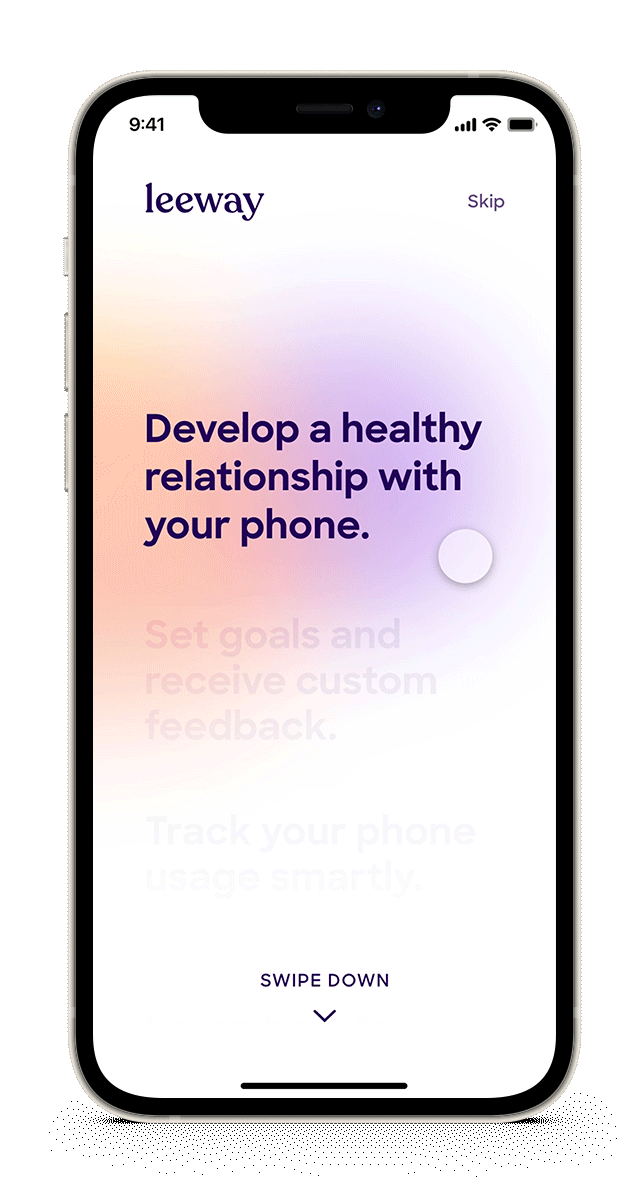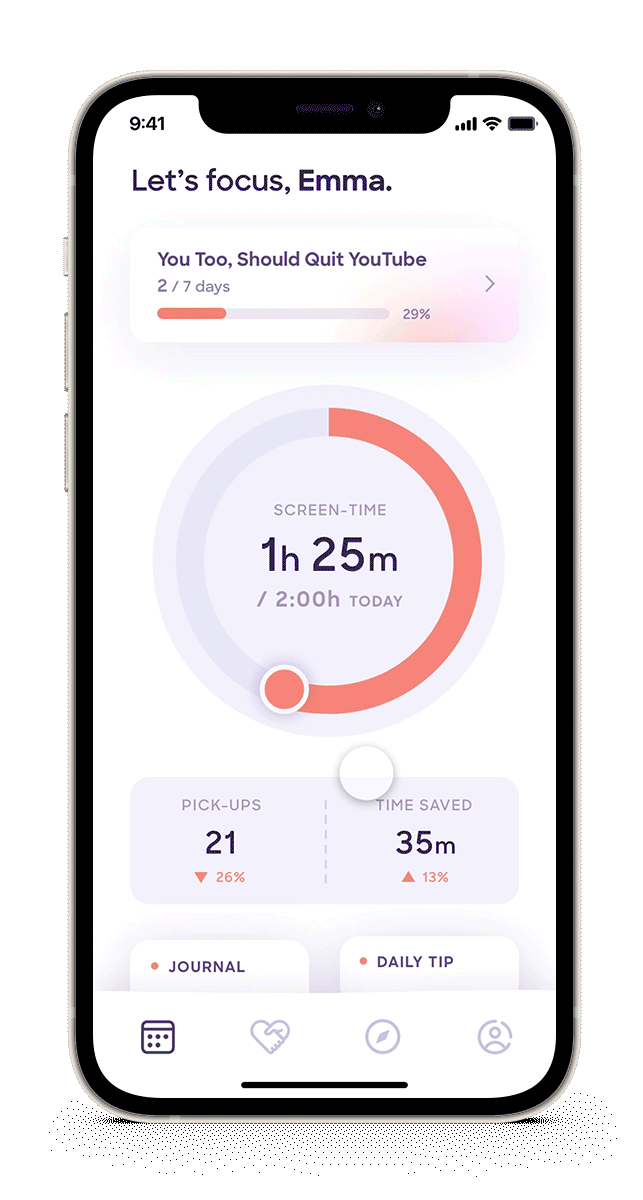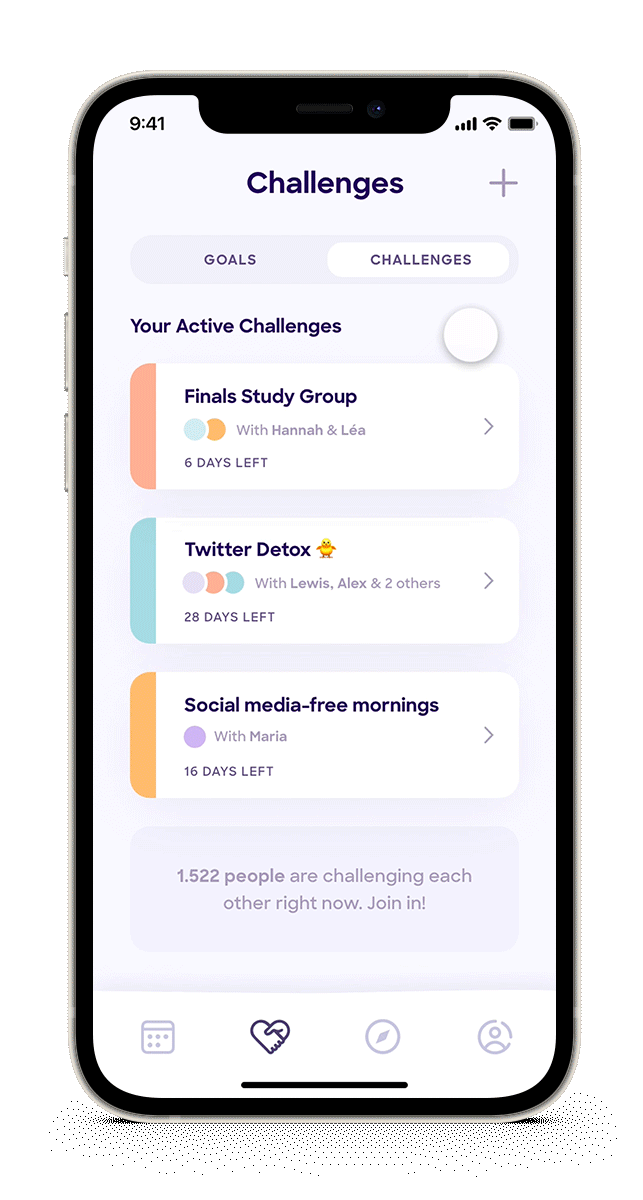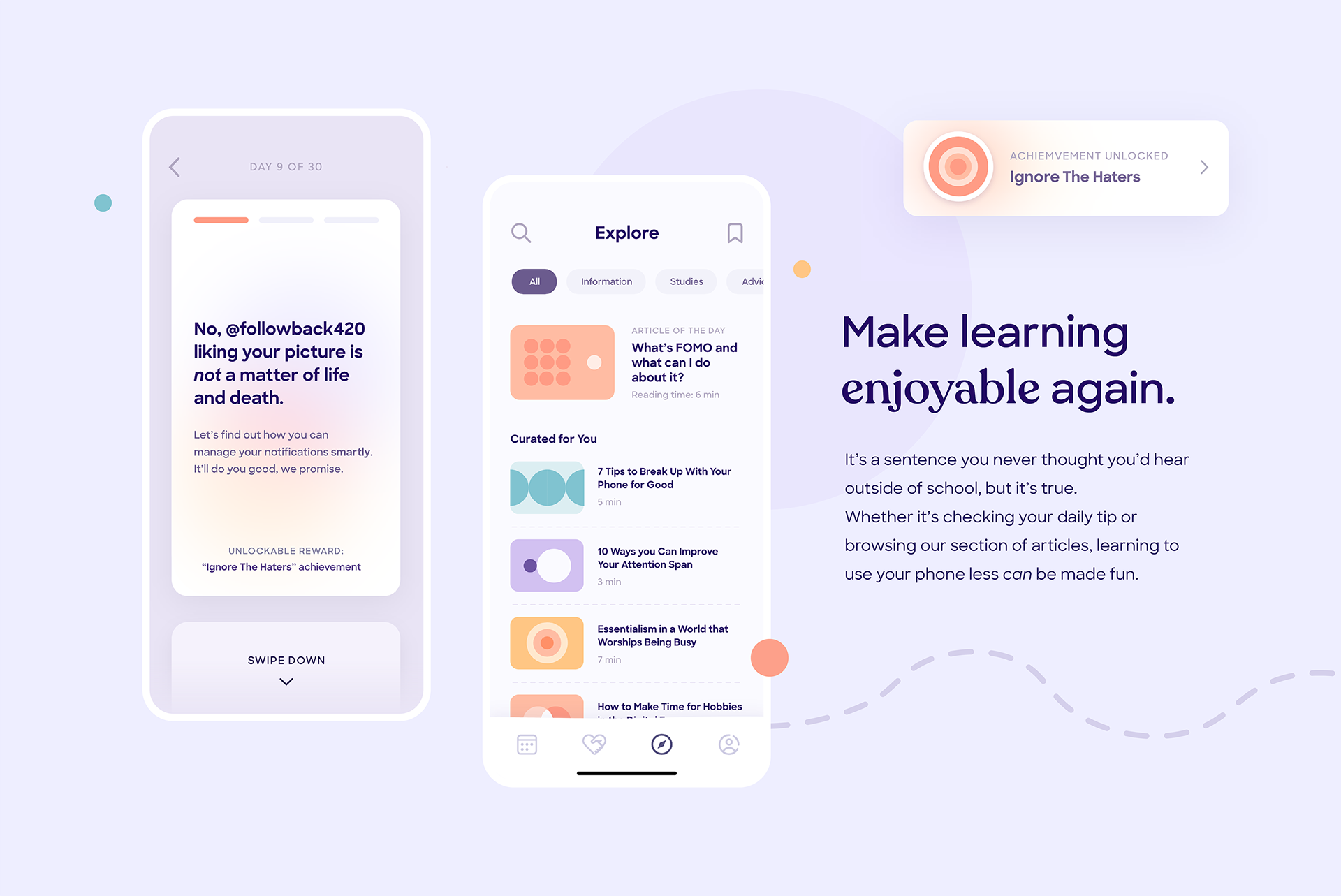 Testing for Leeway was carried out right after prototyping the app, using the following tools:
• Maze for the creation of scenarios wherein the user completed a series of tasks and provide feedback 
• Google Forms for additional questions
• Excel for classifying and processing user feedback
Testing had to be 100% remotely due to the pandemic, but although it was a bit of a challenge to find enough users at first, I managed to obtain answers from 7 users, 6 of which completed the Maze scenarios in their entirety. Thanks to testing and further surveying, I found out that:
• Users responded very positively to the mood tracker and the monthly wrap-ups. All 7 out of 7 said that they would be willing to try to use the goals and challenges on a daily basis.
• Some users had difficulty knowing if they'd registered their mood or checked their tip for the day. I thought adding an orange dot to the tab would indicate novelty, making it go away after the user had completed the action, and when I asked the users, 5 out of 7 indicated that it was easier for them to understand it.
• A couple of users did not immediately understand what the purpose of the handshake icon in the menu bar was but also stated that it didn't make the app more difficult to use because once they opened the page for the first time it became clear.
The creation of Leeway felt incredibly relevant as the pandemic worsened mid-2020. The physical and mental consequences of digital device abuse are very real, and even though this was only a concept for an app, I would've loved to turn it into a real product to share with friends and family. 
As this was my first full app design, including testing and iterating, I learned a lot about prototyping a larger app and testing it with real users, something I hadn't previously had the chance to do.